This article provides a guide on how to paint GIB Board.
Are you planning to paint on your GIB boards to decorate your walls? If you're not hiring professional painters for it, then you need to have an extensive idea about the ways of doing it.
Learning how to paint a GIB board or plasterboards isn't too difficult. But you definitely need to remain cautious about some things if you want to get the best results.
In this article, we will dig into this topic in more detail.
How to prepare before painting a GIB Board?
All painting jobs require preparation to ensure that the main thing goes smoothly. Painting GIB Boards are also no exception.
The main pre-painting job you will have to do is 'filling' the joints of the boards. This is to ensure there is no visible depression, so you will be able to minimize scuffing to the paper surface of the boards.
For this, first, you will need 6, 8, and 12-inch joint filling or taping knives, preferably stainless steel. You will also need paper joint filling tape and plasterboard joint filler (powder or ready mixed).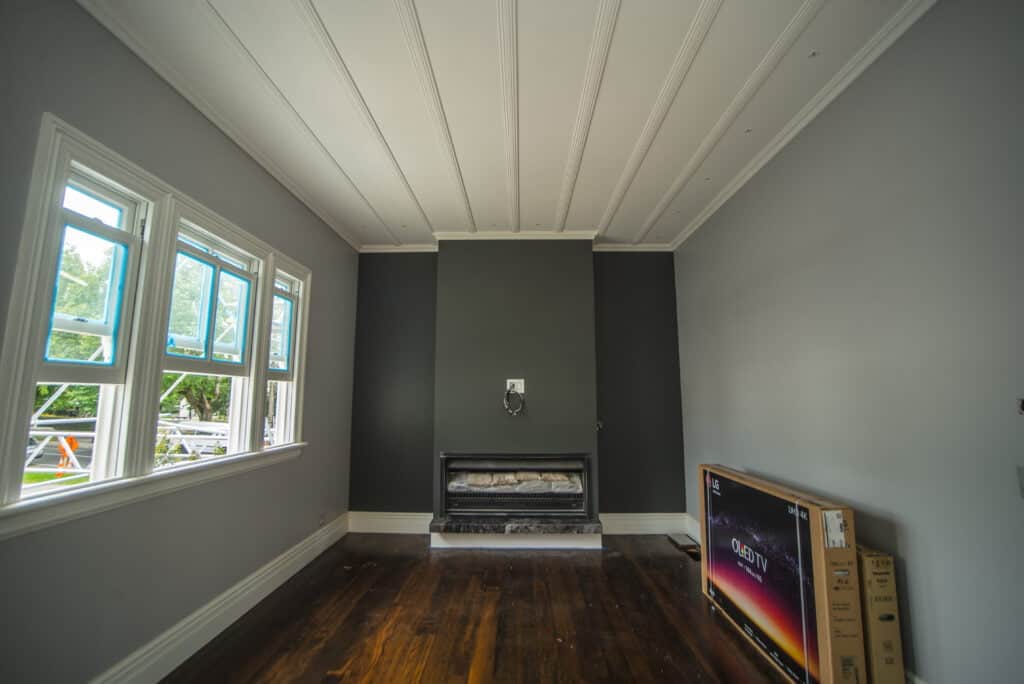 Make sure that all the joints are properly filled before you start the painting. Simply speaking, you will have to build up a lot of layers with a paper tape layer between the first and second layers.
Then you have to feather the edges in. Once you've done that, it will be sanded back to create a smooth and seamless covering over the joint.
After you paint the plasterboards, this will become invisible to the eye. The joint filing is of three types– standard joint filling, internal joint filling, and external joint filling.
After you deal with these, there will be no hard edges left, and all the joints will be fully filled. The corners, fixings, and cornice installation will be sanded to smooth and even finish. Your GIB boards are now ready to be beautified with paint.
Do you have to seal GIB boards before painting?
GIB boards or plasterboards tend to be very porous, even more than bare plaster. So yes, before you apply any finishing coat of paint, you need to seal it using a mist coat. This will ensure that any and all finishing coats bond correctly and don't end up flaking off.
But what is a mist coat? A mist coat is just a watered-down matt emulsion paint. A mist coat is a mixture of paint and water mixed into the ratio of 4:1 (4 parts paint and 1 part water). Wait for it to dry before you can apply it.
Once it's dried up, you have to apply it to the surfaces of all the GIB boards you wish to paint. Apply it in two coats, allowing the first coat to dry off before you put on the next one. After the second coating has dried off, you can now proceed to add your finishing coats or topcoats.
What method should I use to paint a GIB board?
There are three ways to paint your GIB board walls-
Using a brush: Though the most common method, using a brush to paint the plasterboards takes a lot of time. It also doesn't provide the textured finish easing out the substrate and covers only minor imperfections. That's why we recommend keeping the brush application cutting in the edges.

Spray painting: Spray painting takes 20% less time than using a brush. The must-do thing of this method is to back-roll every coat while the paint is still fresh. This is to create a textured finish that can hide minor imperfections better as well as provide continuity between the GIB boards and the walls. But the downside is that you won't be able to protect items like cabinets and windows from over-spraying.

Rolling: Rolling has proven to be the most effective method out of the three. Apply a quality sealer undercoat, then two topcoats in the desired color with a roller, and you will be good to go.
What level of finish should you give for your GIB boards?
As defined by AS/NZS 2589:2007, there are three levels of finish for Gypsum linings plasterboards. These are-
Level 3: This is for areas that don't require any decoration or painting, for example, above ceilings and areas inside service shafts. The appearance of such areas is not important.

Level 4: This is the standard level of finish for plasterboard linings. You will apply it to areas where normal decoration by painting will be carried out. Unless stated otherwise, this is the standard default level of finish for GIB boards.

Level 5: This is the highest level of finish for plasterboard linings. You will only do it when your desired outcome is a finished surface that is as free as possible from surface defects and visual blemishes.
To learn more about level finishes, refer to this informative article.
What type of paint should you use to paint GIB board?
As mentioned before, the best way to go about how to paint gib boards is to use a mist coat, which is basically a matt emulsion. Not just any matt emulsion, specifically the water-based one that you can easily find in stores. You must be wondering why this type of paint is the best for the plasterboards.
A water-based matt emulsion will bond and adhere to the plaster. That will give you a good base to work and build on. This paint type will further allow the plaster beneath the boards to breathe, which is just another way to say that it won't trap any moisture and cause damp patches and other issues that will give you a headache.
On another note, we recommend using a lighter colored matt, preferably white. A good light-colored matt will provide a good base for the finishing top coat paint on your GIB board.
What type of paint shouldn't you use to paint your GIB board?
Since we told you what type of paint you should use for your GIB board, let us also warn you about the types of paint you should avoid. We stressed earlier that you couldn't use just any type of matt emulsion. You have to use specifically the water-based one. This is to say that you should avoid any other type of matt emulsion.
Do not use vinyl or silk paints at any cost on your GIB boards. When these kinds of paint dry up, they form a weird skin that sits on top of the plaster and does not bond with it. As a result, they will easily peel or flake off, causing you to redo the whole thing again. It's also not recommended that you use PVA as a seal coat. Since it's waterproof, it will prevent the paint from soaking into the plasters.
Now you know everything you need to know about painting your GIB boards. It's going to take a while, so time for you to get to work!